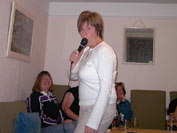 So off to Arran again for the weekend - hopefully this time there will be no "technical" problems with the ferry that caused us to abandon ship two weeks ago! Most of us caught the 3.15 with Alan, Carol-Ann and Craig waiting for the 6.00.
As ever an excellent buffet was prepared by Michael following which we were entertained by Maureen who had taken on Stevie's role as the Karaoke Queen!
Earlier in the week the weather forecast had shed doubt on the proposed plans to do some night navigation on Friday night. However, in the event it turned out to be a superb starlit night with a half moon shimmering on the horizon. Myself, Steven, Michael, Julia and Craig set off at around 9pm for the area around the disused mines in Glen Sannox. After some initial doubt that Michael really was pacing at the rate of over 90 per 100 metres we had a really successful night.
On returning to the centre at about 11.30 there was an eerie silence, explained by the fact that everyone else had disappeared to the pub!
The following morning Peter woke us with a fully cooked breakfast - superb! By 9 o'clock we were all ready for our respective walks; Peter and Helen doing the Cock of Arran; Irene, Craig, Ewan and Maureen going to North Goatfell and Goatfell via Corrie; and the rest of us planning to do a circuit of the Witches Step, the Castles, Cir Mhor and, time permitting, North Goatfell and Cioch na h-Oighe.
A long slog across to the base of Suidhe Fearghas saw Steven and Fiona turn back as Steven's boots were causing him problems. The rest of us eventually reached the first summit in glorious sunshine, but not before Alan and Kenny had made a slight diversion into a rather steep gully. The rather sheepish looks suggest it was somewhat more difficult than they had perhaps anticipated!
Carol-Ann also discovered that she had alternative footwear in her rucksack in the form of pink slippers! By this time the heat of the sun was causing mist to bubble up out of Glen Sannox.
Eventually we neared the Witches Step and found the path that some of us had used previously when doing the route the other way round. Against our better judgement we were pursuaded by Stevie to carry on the main path leading to some interesting route finding!
Once on the Witches Step we again found some awkward manoeuvres to make before we had a rest for lunch just before the Castles. By this time we had decided that the inclusion of North Goatfell and Cioch na h-Oighe was not realistic so for once we had time on the Castles to explore a little and then made our way towards Cir Mhor.
As we approached the summit the mist again started to roll up from Glen Sannox and I noticed a strange circular rainbow-like apparition appear in the distance. Stevie and I realised that it could possibly be the start of a Brocken Spectre and suggested we wait a few minutes, much to the amusement of the rest of the party. Eventually, small shadows appeared which we could all see, soon becoming larger as the mist came closer until we could only see our own shadow, a truly amazing site, with everyone pleased we had stayed to see it.
The descent off the Cir Mhor was another interesting affair with us having to re-climb our initial route to find a good path all the way down to the Saddle. From there most took the direct route down the "chimney" although I made a somewhat precarious descent over some very wet slabs - you know it's not sensible when you realise you can't get back up the way you've come down!
On the way out through Glen Sannox we passed a particularly docile stag about six foot off the path, although even at this distance Kathryn and Julia managed to miss it in their desperation to get to the pub!
At about 6.30 we reached the Sannox Bay Hotel for a couple of well deserved pints before heading back to get changed. Then back to the pub for dinner. On returning to the Centre I made the fatal mistake of falling asleep in the presence of Michael, Alan and a bag of coal! Predictably I found myself looking like I'd just surfaced from "down t'pit"! Alan then made sure he didn't meet a similar, or worse, fate by locking himself in the dining room for the night!
Another great breakfast by Peter on Sunday morning was much appreciated by all and we were amazingly ready to leave by just after nine o'clock. As the bus wasn't due until 10.15 this led to a memory game culminating in Stevie declaring that Cornflakes began with a "K"! This was only beaten by Kathryn's observation on the bus that trees were playing golf, a remark that was on a par with her comment last time about sharks in the Clyde!
Again an absolutely superb weekend - can't wait until next time!
Steve Morley