Report on Beinn Chabhair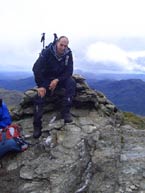 Sunday 29th May 2005
After about million e-mails sent back and forth the day before Alison, Irene, Robin and myself decided to climb Beinn Chabhair which is located about 4½ Km north east of Loch Lomand . We set off from Inveranan to an initial steep climb up by the Ben Glas Burn with a mixture of typical Scottish weather to keep us company. Initially it was a day of Jackets on and Jackets off as we ascended up the hill, but as the walk progressed the weather improved to the relief of us all.
The walk itself was extremely enjoyable, although very boggy at times but thoughts were distracted from the boggy ground by what was around us as the track followed the river with spectacular views and water falls all the way to the loch at the base of the hill.
When we reached the loch about 1500ft we started the true ascent of the mountain. All of us were expecting a hard slog to the top, but I have to say it was one of most enjoyable hills I have climbed (not that I have climbed that many) with winding twisting ascent with ups and downs as the path weaved through the mountain to the summit and just as Robin had requested the mist cleared just as we arrived. We had a quick bite to eat marvelled at the view, then off back down the mountain driven by the thought of cool refreshment at the Drovers Inn which in case you did not know was pub of the year 1705.
It was a truly enjoyable walk with wonderful scenery all the way, one hill I would definitely climb again.
Craig Johnston