In September this year Andy Millar, Bill Niblock and myself joined an organised trek to the Everest region of Nepal. We were away from the UK for a total of 23 days of which 17 were on trek 4 in Kathmandu and 2 travelling to and from Nepal.

After a seven and a half hour flight from London to Abu Dhabi and a four and a half hour connecting flight we finally arrived in Kathmandu in the early hours of Saturday 27th September.

We had two days to explore Kathmandu before joining the trek at the starting point in Lukla. Culture shock would be a good description of our time in Kathmandu, sights, sounds (and smells) assailed the senses. The poverty and living conditions
was mind blowing, although everywhere was a hive of activity, with people trying to eek out a living by whatever means they can.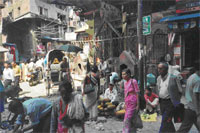 A busy day in Kathmandu.
On the Monday morning we took a flight from Kathmandu to join the trek at Lukla, which lies at the heart of the Everest trekking area.
After an interesting 40 minute internal flight on a small, twin-engine plane, we flew through the mountains, (ever seen the film Alive)! and landed at Lukla. It's here that Nepali - porters and travellers - stop to look at the airplanes flying in.
During the busy season in autumn, you might see several airplanes an hour as they swoop down the mountain valley and make an attempt to land at the Lukla flying strip perched on the side of the mountain.

You get the feeling the Nepalis half expect a plane crash. And when you get a look at where the planes land, you might get that feeling, too, especially while you are on the plane!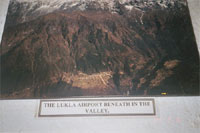 Here our group (there was 12 of us from the UK and 2 Americans) met up with the trekking crew who loaded our trek bags on to yaks for the short walk to our first (of seventeen) overnight camps under canvas.
For the next seventeen days we travelled through the Khumbu region where we visited many places including Thame Monastery - Tenzing Norgay was born nearby - we ascended to Thyangboche, for superb vistas of Ama Dablam (6856m), Lhotse (8501m), and Everest (8848m).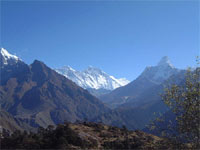 We continued up to higher altitude, where we made our ascent of Kala Pattar (5545m) overlooking Base Camp, for close-up views of Everest, (Everest has its summit in cloud)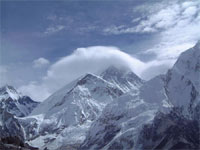 We retraced our steps and followed the Dudh Kosi (milk river) valley to the Gokyo lakes where we climbed Gokyo Ri (5483m) for what I thought was even better views of the Everest massif and surrounding peaks.

Four days later we had descended back down the valley to Lukla where we said our goodbyes to our Sherpa crew.
The Sherpa people (and children) we met on trek, although impoverished by our standards, were some of the happiest and friendly people I have ever met.

One of the highlights of the trek for me was meeting a Sherpa climber called Apa Sherpa, this small unassuming man has summited Everest thirteen times and will try again this year!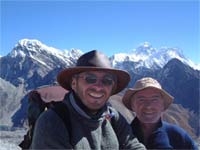 Apa Sherpa (above left) Andy and I sporting designer stubble (above right)

On returning to Kathmandu the first stop was the shower/bath, as after seventeen days on trek (sharing a tent with Andy) with very limited washing and shaving facilities, we were not too fresh! (I wondered why the pilot had the window open).
We had two days to relax in Kathmandu and did some more sightseeing shopping (and laundry).
We returned to the UK again via Abu Dhabi arriving on Sunday 19th of October after what was an experience of a lifetime.
Chris.