Herein lies a true and unadulterated record of the attempt to do four big Munros on a p***ing wet rainy day in November. After an attempt to pretend to be working late my subterfuge was seen through; Big Hamish and Wee Stevie agreed to wait, so I had no excuse and was picked up at around 5:30 PM, along with what seemed like about three hundredweight of various outdoor gear and my guitar which thankfully never left Hamish's pick-up the whole weekend. (Anyone who has heard me sing will understand.)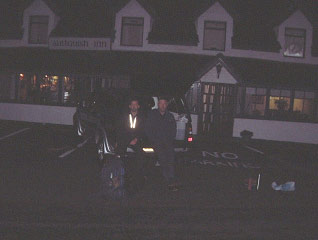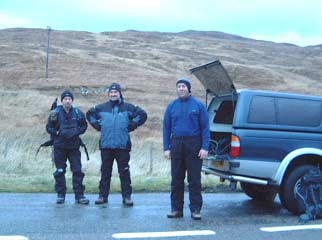 We picked up Gary (hereafter referred to as "Cheesie") at his usual spot in the service area in Stirling. Once again the mythical Ali (...son? ...stair?) failed to materialise. At around nine o'clock we pulled into Aviemore; naturally we needed to do some fluid loading, so we headed to a hostelry for a shandy! On the way we collected some nourishment, in the form of deep fried animal protein of various types accompanied by about two and a half stones of chips per portion. A quick dash up the road to Aultguish, on the scenic banks of Loch Glassgarnoch, saw us there in time to do some more fluid loading; unfortunately this led to me having to unload some of this fluid in the middle of the night. It was so dark that I became disorientated, and mistakenly tried to climb into Wee Stevie's bed. That's how dark it was! We were all up reasonably early next morning, but there was a bit of a delay in getting breakfast, and then the oldest and least experienced member of our team was accused of "fannying about" as per T.C., so we were a little later getting to the hills than we anticipated, but still about 8:30 AM. We set off up across the dam at Loch Droma, noticing a flock of Whooper Swans. At least, one of us (me!) noticed them and pointed them out to the others. There were also loads of deer, many of which had scattered in front of the car the previous night. By now the rain was starting, and it kept on for the whole day, only changing to get heavier or turn into flurries of snow at the tops. After about 3k on the track we headed off up a steep grassy/ heathery slope. By now I was struggling, and lagging quite a bit behind. I was almost on the point of calling off when Wee Stevie dropped back to keep me company and encourage me. Thanks, Stevie.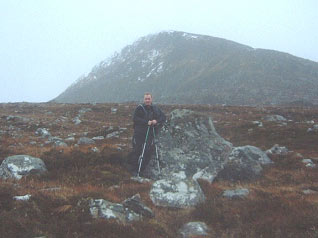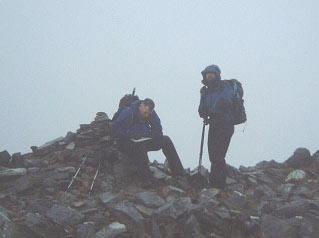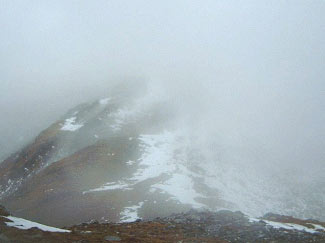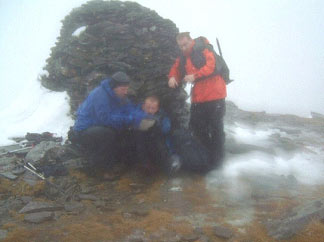 We carried on in deteriorating conditions, although it wasn't cold and made it to the first top, Beinn Liath Mhor Fannaich, around 11:30 AM. Not hanging around, we set off for what was to turn out to be the second and last hill of the day, Sgurr Mor. The conditions were so bad, and time was getting on, so Hamish and Cheesie decided not to put our lives at risk and limit the outing. Deo Gratias. Hamish's route choice for descent was over-ruled, so we had an interesting time descending a steep slippy slope with rocks, cliffs, waterfalls, grassy tussocks and quite a lot of snow, which resulted in several voluntary and involuntary seated glissades, or "bum slides" as Hamish called them. Once we came down out of the clouds there were some spectacular views, probably of Meall a Chrasgraidh across Loch a Mhadaidh. Thereafter it was a wet slog across boggy ground and a couple of rivers to the track, and thence the car.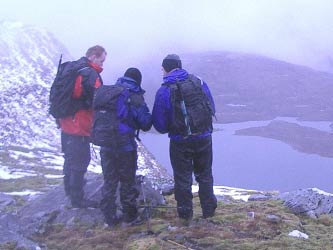 Stopping off at Aultguish bunkhouse for some more fluid replacement and a change of clothes, we set off for the new Aviemore Bunkhouse, which was clean friendly and has the best showers! On the way we did some serious damage to a bottle of Chivas Regal (not Hamish). It fairly heated us up! All I can say about Saturday evening is that we enjoyed an Italian meal, which Hamish chucked up and played a game of chess in one pub. My lawyer says I can't say anything else!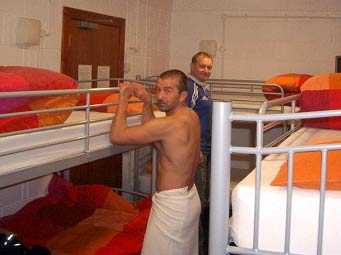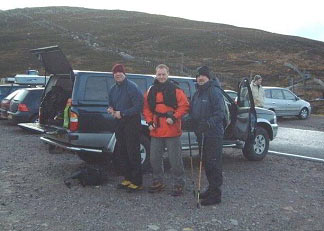 Surprisingly, we were up before 10 next morning, 5 hours sleep! We were feeling a bit rough, especially Stevie, but set off for Cairngorm, which we were up and down in 2 hours! This time it was Cheesie struggling on the way up, but it was a fantastic day, in contrast to the Saturday, with amazing views and blue skies. Again we had an interesting route choice, disdaining the conventional and convenient paved path for a tricky climb up a firm snow slope from Coire Cas. With no ice axes!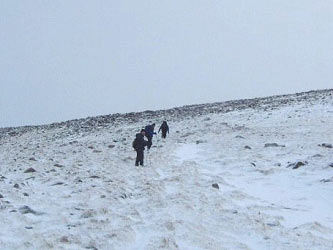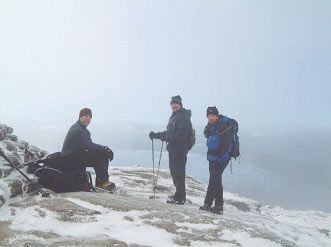 Then after a good "breakfast" (about 3:30 PM) in a greasy spoon in Ballinluig, we headed home. Male bonding rules!
Frank Doig
New Member
For more pictures of this trip check out Gary's "Munros to Go Site" at: http://www.digisol.co.uk/munrostogo/Default.asp