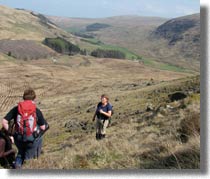 Report on Glen Afton
Saturday 6th May 2006
"How lofty, sweet Afton, thy neighbouring hills / Far marked with the courses of clear winding rills!" Robert Burns
Just back from holiday I made a last minute decision on Friday night to go along to the Glenafton walk on the Saturday. Pat and Liz arrived to pick me up at 9.30am and we headed off. Bright sunny morning and lovely drive down. Met up with Mark, Irene, Michael, Mae, Kevin and Ricki at the waterworks at the Afton Reservoir, 5 miles south of New Cumnock where there is a reasonable car park for visitors
We headed off in good spirits, crossing over a stream and then an initial steep climb. Quick stop to take off top layer of clothing and then on we plodded. Stopped for a few minutes to take in the view and Mark told us that round the next corner was another steep climb for about 20 minutes and this would be the hardest part of the day. Well we are hill walkers and we do have muscles in our legs so off we sclimbed. Reaching the top of Craigbraneoch we stopped for a wee cuppa and scone (my kind of hill walking this) with very pleasant views of the surrounding rolling hills. After tea we then wandered on and another wee climb to the top of Cannock hill. The view from here is wonderful and you can see the head of the Afton Glen, Windy Standards table top and the windmills all along it, not to mention the view of the reservoir.
On our descent we decided to stop for lunch to give us some energy before ascending Blacklorg Hill, which looked quite daunting to some of us. Just as we were finishing lunch a drizzle of rain came on and we decided to don the jackets and head off; and before we knew it we were at the top of Blacklorg, stopping en route to take off jackets as the rain had only lasted a few minutes before the sun was out again (a typical day in the hills in Scotland). We then progressed via Blackcraig hill , back down across the stream and onto the main road for a tarmac hike back to the car (no way was this only a mile long, Mark???). We then met up in the Fairburn Hotel in Mauchlin for a few drinks and a very nice pub it is too. A couple of beers and some good craic rounded off a really enjoyable day on the hills.
We walked about 9 miles , with a total of around 2,000ft ascents which took us roughly 4.5 hours.
Thanks to Mark for organising the walk, it was really good to go somewhere a bit different. Thanks everyone for your company – I had a really good day and hope to see you all on the hills again soon.
Jacqui Muir