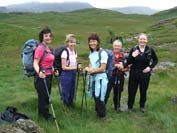 Report on Lake Ditrict Weekend
July 2007
Lost?…Uncertain of our position?...Taxi for Craggy!
As an account of the lakes meet this report may be somewhat lacking in technical details. This is because as a recent convert to this hill walking business I had mostly zero knowledge of what was supposed to be happening. It started well; we all met the night before the walk at a local hostelry, the proprietors Sybil and Basil (names changed in the interests of not being sued) were obviously new to the hospitality business and still struggling with some of the basic concepts of the trade, customer service, cooking, definition of 'steak well done' etc. We did our best to point them in the right direction but I fear our help was not appreciated.
After a restful night at the youth hostel for Steve, Elaina, Pat, Gillian, Linda and Fiona and at Fawlty Towers for Bryon and me who on booking late found there was no room at the inn, we woke up to rain. We waited for the rain to ease before setting off. This was a bit of a surprise. Over many years of listening to intrepid tales of walking in adverse conditions - wind, snow, tornadoes, thunderstorms, hailstones the size of golf balls I had assumed that these hardy mountain types would not even notice the rain much less wait for it to clear.
Hmmmmm…wonder what else I would learn. Six of us set off to do Scafell. The day was wonderful, not too warm, light breeze, beautiful scenery, lots of photo stops, gentle pace, and good company. The waterfalls were in full flow even in places where there weren't supposed to be any waterfalls. Possibly this could have been a clue, but then, what would I know, being a novice and all.
It was a while before we came to anything that you could call a hill. On the walk in we crossed lots of streams and we met a few people. I was grateful to be with a group who were clearly competent at this map reading business. We paused to laugh at a group stuck on the wrong side of a river, gave directions to a group of somewhat confused, lost blokes and smiled gently at their folly. Much later we met some other blokes…they had ropes, crampons and an annoyingly superior expression.
We started confidently upwards, as we climbed we started to meet with cloud and visibility was more limited. However this would not be an issue for people with maps (3), compass's (3) and GPS's (2). After this my recollection becomes a bit hazy, there was scrambling (no one warned me about this!), more scrambling, lots of water (to Elaina's dismay!), more water, much consulting of maps (3), compass's (3) and GPS's (2), rapidly decreasing visibility, unexpected and unsettling uncertainty regarding minor things like location, direction, height, the way down, what that big rock (Broad Stand) was doing in the wrong place and why those other blokes had ropes (and a superior expression).
All I knew for certain was if we had to go down the way we came up one of us would be needing a helicopter. After discussion with a bloke with a rope, it was decided that it was all the waterfalls fault, it shouldn't have been there, it had taken up residence where the path should have been and wilfully misled those at the front with the maps (3) compass's(3) and GPS's (2). We would need an alternative way down. After a vote it was agreed by all, but especially those with the maps (3),compass's (3) and GPS's (2) that we were not and never had been in any way lost or even uncertain of our position we started down using the aforementioned alternate route.
Initially this was more scrambling but after a while we came out of the cloud onto a well marked path with other walkers. Given that the path was clearly marked and well used it was a bit of a surprise when it disappeared at the edge of a wide fast, flowing river and reappeared some distance away on the other side. It took a while to find a way across. In the end there was only one way and that was to get wet so we did, we got wet, some wetter than others! Good job that at the end there was a pub to dry out in while we were waiting for the taxi that in two trips took us all back to our starting point for a mere £50, the taxi driver seemed faintly amused, can't think why. Sybil and Basil seemed pleased enough to see us, there was even a sing song with a band of sorts and Basil turned out to be pretty good with a guitar. All in all it was FANTASTIC can't wait to not get lost again.
Julie Smee