Report on Mount Fuji
27 August 2010

So, a year and a half ago when I left I said I would go climb Mount Fuji and write a report for all you wonderful people. I finally have (woo!). But first, let?s get all the boring statistics out of the way ? Mount Fuji is 3,776m (12,388ft) high, it is classed as an active volcano and last erupted in Dec 1707 (finally stopping a week later in Jan 1708). It rises between Shizuoka and Yamanashi Prefectures, within the Fuji-Hakone-Izu National Park, just to the West of Tokyo. There are 8 routes up Fuji depending on your approach to the mountain; the most popular walk is the Yoshida trail, as it is the easiest to get to from Tokyo (this is the path I opted for) and between July 1st and August 31st it is the most staffed route and each path has a series of huts (or stations) up the mountain where you can rest and buy hot drinks or snacks. Climbing outside these dates is possible but heavily discouraged as the bothies and huts are mostly closed and unmanned (and there have been a few death-by-moron accidents). Altitude sickness can also be a problem, so you don?t want to rush up.

So, to our tale. Are you sitting comfortably? Then I?ll begin?

I currently live in the town of Kimitsu in Chiba Prefecture, nearly 2 hours East of Tokyo. I left here around 11o?clock, travelled through Tokyo to the town of Kawaguchiko in Yamanashi Prefecture. It?s pretty much a view of cement for most of the trip, but once you get past the outskirts of Tokyo you begin to see mountains and greenery. There are local bus-services in the towns around Fuji that take you up to the (nearest) 5th station; these are about half way up depending on your route. In fact it turns out to be a shorter trip to the mountain than it is up the side of it. The roadside up is really green and covered in forest, which was perfect cover for the family of deer that shot across the road right in front of the bus (the brakes worked really well). As you go up past the first station I was already high enough to be passing through clouds and it wasn?t until the 4th station that it began to clear. Arriving at the 5th station reminded me of Aviemore ski centre ? lots of parking, a few stores, restaurant, a caf? and hunners o? folk swarming about. I had planned for a night climb, so not wanting to leave too early I spent some time here looking through the shops and getting some dinner from the vending cart, and then wondering why anyone would buy the large wooden walking sticks that the shops had on sale. Not only were they rather unfunctional looking, they all had bells attached to the top (the jingling would have driven me mad within 100 yards!). It gets to around 6o?clock, the temperature is still in the 20?s, and I have about an hour?s worth of daylight left, so I decide to set off. The 5th station is near the top of the tree line so it?s not long before I?m above them and can see? clouds. Above me is clear blue sky, to my right and below I can see mountain and everywhere else is cloud. However, having never stood on a volcanic mountain before I had a good nosey at the rocks around me, they were all dark red to black in colour and surprisingly light and crumbly. I had always imagined volcanic rock to be quite solid once it had solidified.
Walking along this path I started to pass a couple of large groups of Japanese tourists, they are being given a guided tour up the mountain by park rangers who are telling them all about the area and yes, just like the stereotype they had cameras pointed at everything. The sun begins to set around 7o?clock just as I begin to lose interest in all the rocks around me so I grab my head torch and keep on climbing.

Just after the 6th Station, the last real solidly constructed building I?ll see all night, there?s a flash. I?m not really sure I saw that, or if it was just someone looking around and I caught a glimpse of a head torch, or someone taking a photo, so I continue on? Nope, that was definitely another flash? and there?s the rumble. I look around the surrounding countryside and there are a couple of the nearby towns bright and luminous, miles away in the dark. Flashing through the clouds above them is the lightning. The wind is blowing in the right direction so I don?t need to worry about a storm as I climb but it does give a wonderful light show as I climb. The lightning is trapped within the cloud, sometime a dull masked flash, sometimes a bright fork streaking around its outside. The moon sits fat and bright, a million stars on display with no major light source to drown them out. Suddenly a huge shadow detaches itself from the mountainside and? Sorry, been reading too much Stephen King?

So I reach the 7th station between 8 and 9o?clock. There are a few groups of people floating around and I have a break. The huts for the stations are well spaced out and I notice that people are handing in their dumb arsed bells on a stick (they?ve been bugging me for hours!) and when they get the stick back someone has put a stamp onto it. That?s the reason for these bloody things!!!! It?s actually a rather good idea for a souvenir and I kicked myself a little that I didn?t know about it, but I?m still firmly holding to the idea that I would have had to destroy the bell part of it in short order. Shortly after arriving a squadron of campanologists come wandering into the station area, so I decided to get of there while I could.
Up till now it?s been a fairly wide and steady incline winding its way up the side, but from here it takes a more directly upward turn and loses it pleasant stroll feeling to become more scrambly and turns into a climb that I?m used to, pulling myself up over huge boulder type rocks etc. While the path is really well marked out I do think that the night navigation I?ve done did help me find a better and easier route through the rocks (not that it was necessary, I just feel it helped). I?m still in no hurry so I plod on till around 10o?clock when I decide it?s best to have a good break, so finding a good flat space just off the track I curl up and plunge into total darkness when I switch off my head torch, I don?t think the people who passed me about 40 minutes later even knew I was there. The clouds are now coming in and making everything cold and damp so, layered up, I head on to the 8th station. It takes till after midnight to reach it. By the looks of things it?s the largest collection of huts on this trail, they are all well spaced out and as I still have plenty of time (and an altitude induced headache) I go into one of the huts for a rest, a heat and a ridiculously overpriced mini bowl of soup.

Waking up just before 2am, not overly refreshed, I think it?s a good time to go on to the summit. I take a couple of pain killers, as the ache has subsided but not left completely, step outside the door and? stop at a complete halt. I manage to insinuate myself into the queue that has developed and start slowly shuffling my way to the top. When I say queue, I mean Queue!!! It?s like Buchanan St on a sunny Saturday except everyone there is crammed into a three person wide trail. The sign here says it?s 90mins to the top (we?ll see about that!). About an hour later I get to the 9th station. It?s one of the original buildings on the mountain and looks a heck of a lot like a drystane/ drift wood shack (how they got drift wood up there I don?t want to think about). It?s also surrounded by such a multitude of people that there is no way anyone else could get near it or a seat. So I keep plodding on. The sign here says 1 hour to the top. After about half an hour the path begins to narrow (hadn?t thought that was possible at this point) and the queue begins to slow down, then it stutters along, before finally reaching a start stop motion that reminds me of my daily commutes on the M8! Getting almost to the top I see that the path has turned into a series of steps carved into a small chimney of rock, there are 2 guardian dog statues on the rock face and a large Tori gate built at the top of the stairs. EVERYONE (!!!!!!) is stopping to get their pictures taken at these places and blocking the whole entrance way to the summit. At around 3am One Is Not Amused! But, I wait my turn while everyone swaps their cameras around and asks their friends to ?take another just in case? and finally get across the threshold onto the summit of this great volcano and find myself standing in a shopping centre? I am not kidding. There is, at the top of the highest mountain in Japan, a large shopping centre. Admittedly it is all large wooden shacks, but it?s there surrounded by its halo of halogen lights! It takes 90 minutes to walk around the crater at the top, that?s 90 minutes of shopping for key rings, plaques, souvenirs, postcards (there?s even a post box to put them in!), tat, crap and junk. You want a drink, no problem come on in to one of the many shacks selling hot coffee or hot chocolate (this at least is somewhat useful, but still!!!!!).

About a half hour before sunrise I finally procure myself a place to watch the Eastern horizon without thinking about or seeing this commercial monster lurking behind me. Looking down I see there is still a flood of humanity rising up the mountain, there are so many torch lights that I could easily mistake the path up for a Disneyland Parade however as it gets closer to dawn it starts to get brighter (this whole ?darkest before the dawn? thing is total nonsense by the way, sun isn?t above the horizon and I can see perfectly well). I can easily see a fair amount of clouds far below me, and as I watch the whole sky above them turns from grey to a dark blue, while a rainbow begins to grow along the horizon. It sits; growing fatter, on top of the clouds before the sun finally appears, obscuring it completely from sight. As the world begins to warm up, the clouds below start to burn away showing the surrounding countryside. Smaller mountains below looking like islands in a sea of clouds. Seeing all that greenery, and space on a bright clear day makes the whole journey well worthwhile. You can keep your skyscrapers, glass towers and concrete jungles; give me a view of valleys, mountains and trees any day. After absorbing the view, and the beginning of the day?s heat, for around half an hour I decide to head back down (partly to help get rid of the headache, and partly to stop my teeth chattering as I hadn?t noticed I?d gotten cold).

Finding the start of the descending path is really easy. It?s also the main route for emergency vehicles. It?s made up mostly of the small crumbly rocks that are all around the bottom of the path, and is beautifully wide and flat, with a gentle slope to go down. I think if I had been coming up this path I would have been complaining a lot about someone adding to the top of the mountain and there are no huts on this path. But the going is so easy it takes me 20mins to get down to station 9, a quick removal of the top layer and a couple of pain killers later and I?m off again. A half hour later I?m almost a station 7 and so hot I need to get down to my shorts and t-shirt (and it?s not long past 6am!). I arrive back at the 5th station about 1 hour before the first bus is due in. It had taken me over 9 hours to ascend, and 1 hour 46mins to descend (even stopping to admire the horses that were carting supplies and staff up the mountain).

And I was not the first person waiting for the bus. I pretty much dropped down into the bus parking space and leaning against my backpack I fell asleep, being woken by the bus driver peeping his horn at me and the dozen or so others who had all come down and were waiting on him, and getting in his way. Getting on the bus and heading home I start thinking about the Japanese saying I heard ? ?A wise man climbs Fuji, but only a fool does it twice.? Given the chance to climb up a different path, and do it in daylight to catch the sunset instead of sunrise I may just have to be a fool.

Ewan Reid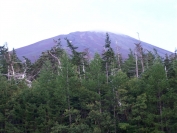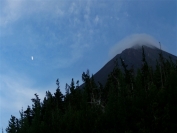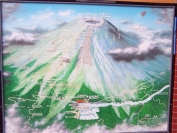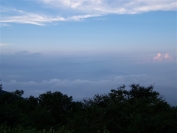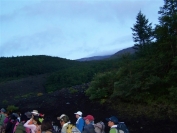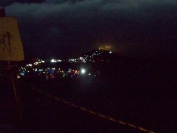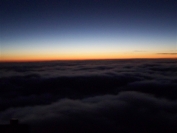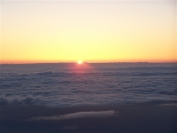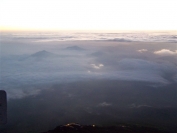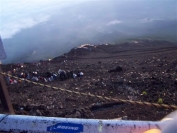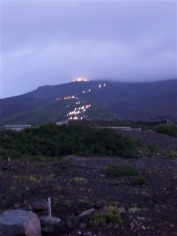 Photos: Ewan Reid